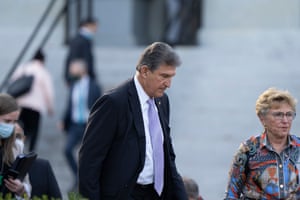 9.47am EST09:47
Biden announces he will renominate Powell as Fed chairman
Joe Biden has just announced he will renominate Jerome Powell to serve another term as chair of the Federal Reserve board of governors.
In a new statement, the White House noted Biden will also nominate Dr Lael Brainard to serve as vice-chair of the Fed board, on which she has served since 2014.
President Biden
(@POTUS)
America needs steady, independent, and effective leadership at the Federal Reserve. That's why I will nominate Jerome Powell for a second term as Chair of the Board of Governors of the Federal Reserve System and Dr. Lael Brainard to serve as Vice Chair of the Board of Governors.
November 22, 2021
"While there's still more to be done, we've made remarkable progress over the last 10 months in getting Americans back to work and getting our economy moving again," Biden said in the statement.
"That success is a testament to the economic agenda I've pursued and to the decisive action that the Federal Reserve has taken under Chair Powell and Dr. Brainard to help steer us through the worst downturn in modern American history and put us on the path to recovery. …
"Fundamentally, if we want to continue to build on the economic success of this year we need stability and independence at the Federal Reserve – and I have full confidence after their trial by fire over the last 20 months that Chair Powell and Dr. Brainard will provide the strong leadership our country needs."
The president still has three seats to fill on the Fed board, including the position of vice-chair for supervision. The White House said Biden plans to announce those appointments "beginning in early December".
9.40am EST09:40
Democrats are worried that inflation could imperil their legislative agenda and their majorities in Congress as crucial midterm elections loom next year.
While Joe Biden and fellow Democrats had previously sought to downplay rising inflation, it has become an unavoidable issue as prices continue to climb.
The labor department has reported that prices increased by 6.2% over the past 12 months, marking the most rapid uptick since 1990. Gasoline prices have increased by 49.6% over the past year, while food prices have risen by 5.3%.
As prices rise, more working Americans are noticing their bills have become more burdensome. According to a poll conducted by the progressive firm Navigator Research this month, 54% of Americans now say the cost of groceries and gas is a "major crisis", marking a 17-point increase since September.
Senator Joe Manchin, one of the key holdouts in Democrats' negotiations over their $1.75tn spending package, has said he is hearing more from constituents who are concerned about their gas and grocery bills.
"By all accounts, the threat posed by record inflation to the American people is not 'transitory' and is instead getting worse," Manchin said in response to the labor department's latest report. "From the grocery store to the gas pump, Americans know the inflation tax is real and DC can no longer ignore the economic pain Americans feel every day."
Manchin has previously expressed concern that Democrats' spending package, known as the Build Back Better Act, could negatively contribute to inflation.
Biden will need Manchin's support to get the spending package through the evenly divided Senate, so the senator's concerns could endanger the president's top legislative priority.
9.40am EST09:40
"Corporate" Democrats in the Senate imperil Joe Biden's Build Back Better Act, a leading House progressive warned – but not just Joe Manchin and Kyrsten Sinema, the targets of most leftwing ire.
Such Democrats, Rashida Tlaib of Michigan said, are influenced by donors who "don't have the best interests of the American people in mind".
At the same time, the New York Times reported that Manchin and Sinema are increasingly receiving money from corporate and conservative donors.
In an interview broadcast on Sunday, Tlaib told Axios she was "fearful" that "corporate Dems" would "guide this agenda. It's gonna be the people that are gonna continue to profit off of human suffering.
"I know that they've been influenced and guided by folks that don't have the best interests of the American people in mind."
Tlaib said she was referring to Manchin and Sinema, "but I think there are some others that … have issues with the prescription drug negotiations there.
"And so I can't say it's just those two. They seem to be leading the fight, but I wouldn't be surprised if folks are hiding behind them."
9.40am EST09:40
Build Back Better advances to the Senate, where potential problems loom
Greeting, live blog readers.
The House passed Democrats' $1.75tn social spending package, know as the Build Back Better Act, on Friday in a vote of 220 to 213.
The legislation now advances to the Senate, where the proposal will face many more hurdles. All 50 Democratic senators must support the bill in order to get it to Joe Biden's desk.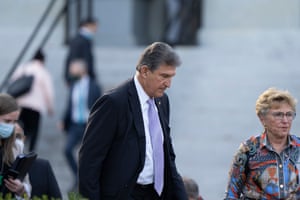 Joe Manchin is seen at the White House. Photograph: REX/Shutterstock
Senate Democrats have already indicated they plan to make changes to the House version of the bill, particularly when it comes to the revenue-raising provisions that will help pay for the package.
And one of the centrist holdouts in the negotiations over the bill, Joe Manchin, has previously indicated concerns about how the proposal may negatively impact inflation.
So the Senate needs to craft a version of the bill that can win the support of all 50 Democratic members, and then congressional leaders from both chambers need to come together to agree on a final version of the legislation.
It's going to be a long month of negotiations. Stay tuned.