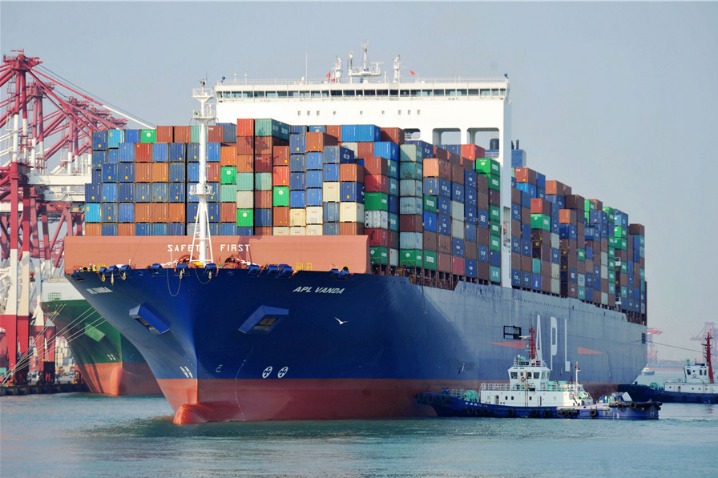 A US cargo ship docks at the Qingdao Port, Shandong province. [Photo by Yu Shaoyue/For China Daily]
United States Trade Representative Katherine Tai has called for honest, clear communication among businesses in the US and China on the opportunities and challenges that come from their nations" profound relationship.
Speaking on Wednesday at the annual gala of the National Committee on US-China Relations, in New York City, Tai said the relationship between the world's two largest economies impacts not only employers and workers in the US and China but also around the world.
The US business community needs "a clear eye, honesty and communication around where you see opportunities, (and) especially at this time where you see challenges "in the relationship, she said.
"There are really important conversations that need to be had, including wisdom between the business communities (in the US and China) around how choices that we are making in each of our respective economies are impacting each other's opportunities and the opportunities for our people."
Tai said that the world today is the product of a shared history, and emphasized that "nothing is predestined".
"We're the products of history and we're the products of the choices that we make," she said. "I hope that on both sides of this important and complex relationship that there is that shared seriousness of purpose and the consciousness that what happens next is a result of decisions that we both are making."
Stephen A. Orlins, president of the national committee, also urged businesses not to give up hope of improved bilateral ties between China and the US.
At the gala, he recited an ode by Song Dynasty (960-1279) poet Lu You to express his understanding of the current state of relations: "After endless mountains and rivers that leave doubt whether there is a path out, suddenly one encounters the shade of a willow, bright flowers and a lovely village."
US-China relations have been through endless mountains and rivers in recent years, Orlins said, but if the two countries are to tackle climate change, the global pandemic, terrorism, and the proliferation of weapons of mass destruction, "we must find a way to that lovely village".
"We need only to look back at our history to see that a seemingly impossible future is possible," he said, adding that this year marks the 50th anniversary of the Shanghai Communique and Ping-Pong Diplomacy.
"That trip, along with brave actions from great leaders, changed the narrative about how we and China can work together and build relationships for people," Orlins said.
minluzhang@chinadailyusa.com