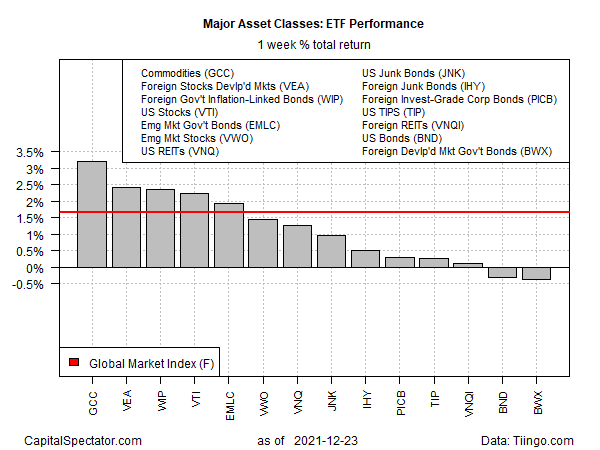 Most of the major asset classes posted gains during the holiday-shortened trading week through Thursday, Dec. 23, based on a set of ETFs. But with several risk factors lurking in the final trading days of the year, investors are wondering if last week's recovery in asset prices will extend to the closing bell for 2021.
Animal spirits were certainly alive and kicking in commodities last week via WisdomTree Continuous Commodity Index Fund (NYSE:), which surged 3.2%. The weekly pop marks the ETF's biggest weekly increase in two months.
Commodities are one of the top-performing asset classes for 2021, but analysts at ING are cautious on the outlook for commodities in 2022, based on analysis from earlier in the month. In the new year, Fitch Solutions also sees a case for a neutral to a slightly bearish outlook for commodities.
Meanwhile, bonds were last week's losers for the major asset classes. A broad measure of US fixed income (NASDAQ:) and foreign government bonds in developed markets (NYSE:) retreated in the week just passed.
By contrast, a broad rally in risk assets lifted the Global Market Index (GMI.F)—an unmanaged benchmark (maintained by CapitalSpectator.com) that holds all the major asset classes (except cash) in market-value weights via ETF proxies. GMI.F rebounded with a strong 1.7% gain last week.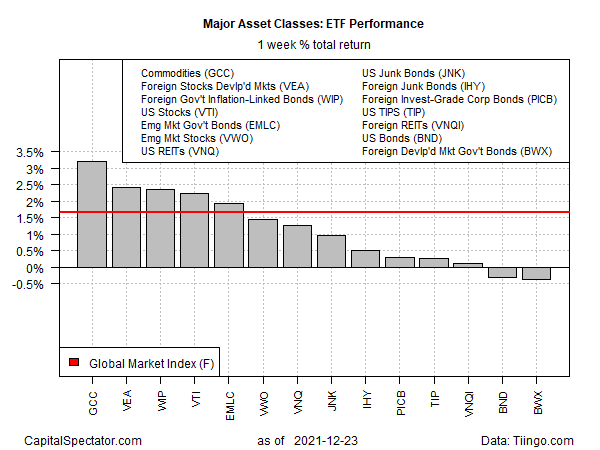 Major Asset Classes 1-Week Performance.
For the one-year change, US real estate investment trusts remain the leader by far. Vanguard Real Estate ETF (NYSE:) is ahead by a sizzling 38.7% for the trailing 12-month window. US equities, through Vanguard Total Stock Market Index Fund ETF Shares (NYSE:), are a distant second with a 26.2% rally.
Several asset classes have remained underwater for the past year. The biggest setback was bonds issued by governments in emerging markets via (NYSE:), which has shed 8.3%.
GMI.F posted a healthy 14.6% increase at last week's close for the trailing one-year window.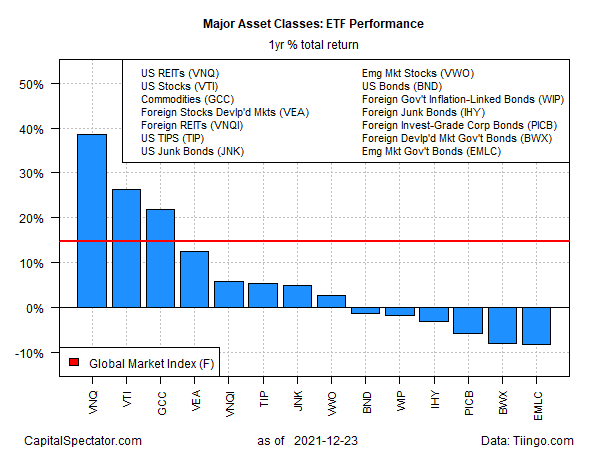 Major Asset Classes 1-Year Performance.
Reviewing the major asset classes through a drawdown lens continues to show that most markets are still posting moderate peak-to-trough declines (no deeper than -10%). The exceptions are emerging markets stocks (NYSE:), emerging markets bonds (NYSE:), and commodities (GCC), which are currently posting drawdowns over 10% declines.
GMI.F's current drawdown is -1.3%.
Current Drawdowns Vs. Range 10-Year Chart.