4.12pm EDT16:12
However, retired Army General Barry McCaffrey said that Joe Biden's announcement about the US policy in Iraq is "not very significant at all".
Geoff Bennett
(@GeoffRBennett)
Gen. Barry McCaffrey (@mccaffreyr3) says the White House announcement about the end of combat operations in Iraq is "not very significant."
He suggests it's a way to "take the heat off the Iraqi prime minister and redefine the public face of the U.S. presence." pic.twitter.com/7WTKgv0fyq
July 26, 2021
"We haven't been in a combat mission there for a couple years. It's a train and advise," McCaffrey told MSNBC.
"So I don't know what's coming out of this, primarily that they're trying to take the heat off the Iraqi prime minister and redefine the public face of the US presence."
3.59pm EDT15:59
US will not be in combat mission in Iraq by end of year, Biden says
Joe Biden has just made some news in the Oval Office, while meeting with Iraqi Prime Minister Mustafa Al-Kadhimi.
Biden first welcomed the prime minister to the White House, saying, "Iraq has been a vital partner for the United States for some time now in the Middle East, and I've engaged deeply in Iraq for my entire career."
As reporters were being shuffled out of the Oval Office, the president answered a couple questions about the future of the US-Iraqi partnership.
CBS News
(@CBSNews)
Biden on most recent discussions with the Iraqi government: "Our role in Iraq will be dealing with — it's just to be available, to continue to train, to assist, to help and to deal with ISIS as it arrives. But we are not going to be, by the end of the year, in a combat mission." pic.twitter.com/IT4TBSwIhG
July 26, 2021
Biden pledged that the US will "continue to train, to assist, to help and to deal with Isis as it arrives" in Iraq.
"But we are not going to be, by the end of the year, in a combat mission," Biden said.
The president's comments come as the US military also looks to complete its withdrawal from Afghanistan by the end of next month.
3.42pm EDT15:42
Senate majority leader Chuck Schumer said the upper chamber may stay in session through the weekend to get the bipartisan infrastructure bill passed.
"I am fully committed to passing a bipartisan infrastructure bill," Schumer said on the Senate floor moments ago.
"Since senators are still finalizing the text of the agreement, senators should be on notice that the Senate may stay in session through the weekend in order to finish the bill."
CBS News
(@CBSNews)
Senate Majority Leader Chuck Schumer says he is "fully committed to passing a bipartisan infrastructure bill," and the Senate may stay in session over the weekend to finish the legislation https://t.co/Nj065CIsxp pic.twitter.com/1zXmqErMpW
July 26, 2021
Schumer also reiterated his warning that the Senate may work through their previously scheduled August recess if a bill is not passed by then.
The Senate voted on a motion to proceed on the bill last Wednesday, but the motion failed, as Republicans insisted that a final deal be reached before the chamber takes up the legislation.
And new problems arose in the bipartisan negotiations today, with Republicans accusing Democrats of walking away from previous promises.
3.22pm EDT15:22
At the White House briefing earlier, Jen Psaki mentioned a story that attracted a lot of attention at the weekend, that of Tennessee conservative radio host Phil Valentine and his battle with Covid.
Valentine doubted and mocked vaccination efforts – even singing a cod-Beatles song, Vaxman – but then ended up seriously ill in hospital with Covid-19.
Psaki said: "Some of those, like a radio host in Tennessee, are saying from their hospital bed that they plan to be a strong advocate for the vaccine after recovering from severe illness because of Covid."
Our original story about Valentine's experience, from Saturday, is here.
It contains a statement from Valentine's family, which said: "Phil would like for his listeners to know that while he has never been an 'anti-vaxer' he regrets not being more vehemently 'pro-vaccine', and looks forward to being able to more vigorously advocate that as soon as he is back on the air."
His radio station has since provided updates on his health:
SuperTalk 99.7 WTN
(@997wtn)
Sunday night update on @ValentineShow #prayforphil pic.twitter.com/hJzP7Fb4ug
July 25, 2021
2.56pm EDT14:56
Biden confirms VA vaccine mandate move

Joe Biden has been speaking to reporters at the White House, where he is meeting the Iraqi prime minister, Mustafa al-Kadhimi, and he has confirmed that the Department of Veterans Affairs will become the first federal agency to mandate Covid-19 vaccinations among staff, in this case in frontline healthcare roles.
The New York Times reported the move shortly after Jen Psaki finished a White House press briefing replete with questions about whether such mandates would enter administration policy.
Veterans affairs secretary Denis McDonough, a former White House chief of staff, told the Times he had told the White House about the move and added: "I am doing this because it's the best way to keep our veterans safe, full stop."
Updated
at 2.58pm EDT
2.42pm EDT14:42

Clay Higgins, a Republican congressman from Louisiana who has criticised mask mandates and other public health measures during the coronavirus pandemic, has announced that he, his wife and son have contracted Covid-19.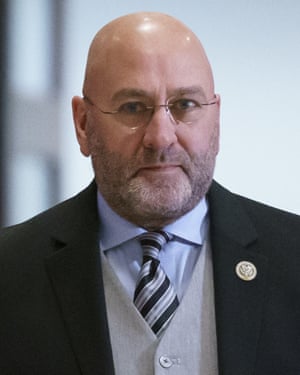 Clay Higgins. Photograph: J Scott Applewhite/AP
Higgins, who has not said if he has been vaccinated, announced the news on Facebook on Sunday night. He said he and his wife were infected last year.
"This episode is far more challenging," he wrote. "It has required all my devoted energy. We are all under excellent care and our prognosis is positive."
In May, Higgins wrote on Facebook: "If you want to get vaccinated, get vaccinated. If you want to wear a mask, wear a mask. If you don't, then don't. That's your right as a free American."
Amid dwindling vaccination rates, Higgins' state is among those experiencing a fourth surge of Covid cases.
Last December, a 41-year-old Republican congressman-elect from Louisiana, Luke Letlow, died from complications from Covid-19.
Steve Scalise, another Louisiana Republican and as House Minority Whip a key member of party leadership in Washington, said recently that he only got vaccinated this month, because he thought he had immunity because he previously tested positive for coronavirus antibodies.
Last week, the Florida Republican Vern Buchanan announced a positive test. He said he had been fully vaccinated and was experiencing mild symptoms.
Here's Jessica Glenza on the problem of vaccine hesitancy:
2.25pm EDT14:25
VA will mandate vaccines for frontline health staff

The New York Times reports that the Department of Veterans Affairs will become the first federal agency to mandate vaccinations for employees, in this case 115,000 frontline healthcare workers who look after those who have served in the US military.
The move follows similar by New York City earlier today.
Veterans affairs secretary Denis McDonough, a former White House chief of staff under Barack Obama, told the Times: "I am doing this because it's the best way to keep our veterans safe, full stop."
At the White House earlier, press secretary Jen Psaki said mandates on vaccinations were a matter for individual companies and communities.
McDonough told the Times he had told the White House about his decision.
2.11pm EDT14:11
EPA revises Trump rule on coal plant river waste

The Environmental Protection Agency (EPA) has said it will revise a Donald Trump-era rule that allowed coal-fired power plants to dump certain toxins into rivers and streams.
The EPA said it will draw up a new rule later this year to strengthen wastewater pollution regulations for coal plants that produce electricity. The agency hopes the new rule will be in place by the end of Joe Biden's first term in office.
Under Trump, the EPA allowed plant operators to avoid or delay installing equipment that ensured toxins such as lead and mercury did not seep into waterways.
The agency will continue to use this weaker standard until the new rule comes into force, which has disappointed green groups that voiced dismay at the barrage of environmental protections rolled back by the former president.
"EPA is committed to science-based policy decisions to protect our natural resources and public health," said Michael Regan, administrator of the EPA.
1.52pm EDT13:52

Jen Psaki has wrapped the White House briefing for the day, as the press goes off to see Joe Biden and the Iraqi PM. It was a wide-ranging briefing with, as Joanie showed below, a lot of questions about the Delta Covid variant, its surging case numbers and its effects on travel and the US economy.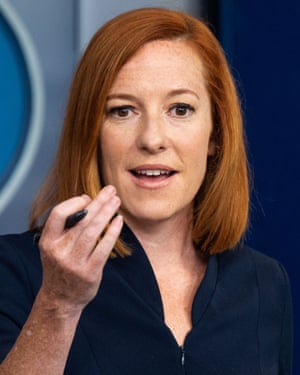 Jen Psaki. Photograph: Michael Brochstein/SOPA Images/REX/Shutterstock
Psaki made a spot of news earlier, as it happens, by telling Snapchat the Biden administration engages with Fox News because its viewers "might" listen to its medical experts about the need to beat Covid.
She was speaking to Good Luck America after a week in which Fox News denied reports it had engaged in high-level discussions with the White House before hosts including Sean Hannity (if not Tucker Carlson) exhorted viewers to get Covid-19 vaccinations.
Asked why any member of the administration should engage, given that Fox News was "only going to lash Democrats", Psaki referred to primetime hosts such as Hannity and Carlson when she said: "Well first, we don't do a lot of the personalities on Fox.
"Look, I would say that the president's No 1 goal still is beating the pandemic, our objective is to put people back to work, and we need to talk to Fox and Fox viewers in order to do that.
"Now, they are not waiting for the president, the vice-president and other people from the administration to tell them what to do.
"But they might have listened to medical experts or some of our doctors. They might. There might be information that strikes them because it's so fact-based, if we conveyed to Fox that they may hear that."
Full story:
Updated
at 1.54pm EDT
1.43pm EDT13:43
Jen Psaki downplayed the latest disagreements between Senate Democrats and Republicans over the bipartisan infrastructure bill.
The White House press secretary said such hurdles are "expected" as Congress tries to reach a final deal on a bipartisan proposal.
"We always know that there is some wrangling at the end of a process," Psaki said.
The press secretary's comments came as Senate Republican aides accused Democrats of backpedaling on previous promises about the legislation, per the Washington Post:
Tony Romm
(@TonyRomm)
GOP aides now claim Democrats violated the contours of the roughly $1 trillion infrastructure agreement they announced in principle last month particularly on prevailing wages, pay-fors and water spending.
seems not good! https://t.co/X2cBBRAGgh
July 26, 2021
1.31pm EDT13:31
One reporter asked Jen Psaki whether Joe Biden will watch the January 6 select committee's first hearing tomorrow.
The press secretary said that the president has a busy scheduled but may watch some clips of the hearing during the day.
Psaki also reiterated that Biden supports House speaker Nancy Pelosi's goal of getting to the bottom of what happened on January 6, when a pro-Trump mob stormed the Capitol.
Members of the US Capitol Police force and the Metropolitan Police Department of Washington, who provided security on that violent day, are scheduled to testify tomorrow before the select committee.
1.20pm EDT13:20
US will keep travel restrictions in place for now, White House confirms
The White House press secretary, Jen Psaki, began her daily briefing by once again encouraging all eligible Americans to get vaccinated against coronavirus.
Psaki noted that nearly 70% of American adults are now at least partially vaccinated, a benchmark that Joe Biden had hoped to reach by July 4.
The press secretary emphasized that those who are vaccinated are far less likely to be hospitalized with coronavirus, as the delta variant continues to spread across the US.
"The reality is: it's preventable," Psaki said.
The press secretary also confirmed earlier reports that the US is keeping travel restrictions in place for now because of the spread of the delta variant and concerns about unvaccinated Americans.
Updated
at 1.46pm EDT
1.10pm EDT13:10
Trump ally Barrack pleads not guilty

Trump ally Tom Barrack is headed for trial, after pleading not guilty today in court in Brooklyn, New York to charges of illegal lobbying for the United Arab Emirates.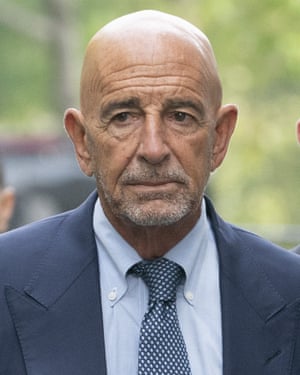 Tom Barrack. Photograph: Mark Lennihan/AP
Barrack, who played a key role in fundraising for Donald Trump's (much legally troubled) inauguration in 2017, was arrested and bailed (in a $250m deal) last week.
Magistrate judge Sanket Bulsara accepted his plea on seven counts, including secretly lobbying the Trump administration for the UAE between 2016 and 2018. Barrack, 74, also pleaded not guilty to lying to investigators.
Barrack has long been close to Trump. For example, in his book Fire and Fury, Michael Wolff characterised the two men and the financier Jeffrey Epstein, who was later convicted of sex trafficking before killing himself in custody, as a "set of nightlife musketeers" in the 1980s and 1990s.
Here's more on the case at hand:
Updated
at 1.55pm EDT
1.00pm EDT13:00
Today so far
Here's where the day stands so far:
Dozens of medical groups called for health care facilities to require coronavirus vaccinations for their workers. The groups, which included the American Medical Association and the American Academy of Pediatrics, described a vaccination mandate as the "logical fulfillment of the ethical commitment of all healthcare workers to put patients as well as residents of long-term care facilities first and take all steps necessary to ensure their health and wellbeing".
All New York city workers will be required to get vaccinated, mayor Bill de Blasio announced this morning. Starting September 13, all city employees will either need to get vaccinated or receive weekly coronavirus tests. "Let's be clear about why this is so important: this is about our recovery," de Blasio said.
Joe Biden commemorated the 31st anniversary of the signing of the Americans with Disabilities Act. The president announced that some Americans with long-term symptoms of coronavirus qualify for ADA protections, including accommodations in schools and offices to guarantee their success.
The blog will have more coming up, so stay tuned.

12.43pm EDT12:43
One of the members of the January 6 select committee, Democrat Adam Schiff, said he expected the panel to issue subpoenas in the course of its work.
MSNBC
(@MSNBC)
.@HallieJackson asks Rep. Schiff whether he expects to issue subpoenas in the Jan. 6th Select Committee investigation.
"Yes, I do. We want to make sure, for example, when we request documents that we get all of them … That's certainly my expectation." pic.twitter.com/FTJ1qD4InF
July 26, 2021
"We want to make sure, for example, when we request documents that we get all of them, that we don't have people withholding information because it's a voluntary request," Schiff told MSNBC today.
"So, yes, I fear we're going to subpoenas and going to them early. And with witnesses, I expect that some of them will be reluctant to testify, and they will need to be compelled. So that's certainly my expectation."
Schiff also said that he did not expect the select committee to wrap up its work within the year, although he noted the members feel a "sense of urgency" about the work.
The congressman added that the committee's timetable will depend upon how much obstruction members encounter as they carry out the investigation.
12.28pm EDT12:28
Hugo Lowell reports for the Guardian:
The House speaker, Nancy Pelosi, is readying the committee that will on Tuesday begin its investigation into the attack on the Capitol to press ahead with an aggressive inquiry into Donald Trump, as she seeks to exploit a Republican refusal to participate that could leave the former president unguarded.
Pelosi's move last week to block Jim Banks and Jim Jordan – vociferous allies of Trump – from serving on the House select committee, prompted the House minority leader, Kevin McCarthy, to boycott the inquiry, pulling his three other Republican picks from the panel.
But Pelosi won strong support from Democrats and told lieutenants she may have emerged with the upper hand ahead of the select committee's first hearing.
"We have the duty, to the constitution and the country, to find the truth of the 6 January insurrection and to ensure that such an assault on our Democracy cannot again happen," Pelosi said of the investigation in a letter to Democrats.
The speaker has suggested to top Democrats in recent days that McCarthy's move to boycott the panel leaves Trump without any defenders in the high-profile investigation into the 6 January insurrection, according to a source familiar with the matter.
12.13pm EDT12:13
McCarthy mocks Cheney and Kinzinger as 'Pelosi Republicans'
House minority leader Kevin McCarthy was among those who attended Joe Biden's speech on the Americans with Disabilities Act.
Before the president's remarks, the Republican leader was asked about his thoughts on a second member of his caucus, Adam Kinzinger, accepting speaker Nancy Pelosi's invitation to serve on the January 6 select committee.
Kelly O'Donnell
(@KellyO)
At WH, @GOPLeader responded to questions about Jan 6 Commission & criticized @SpeakerPelosi for selecting R members.McCarthy called @RepLizCheney @AdamKinzinger "Pelosi Republicans" pic.twitter.com/Jln7ALAGbq
July 26, 2021
McCarthy reiterated his previous criticism of Republican members accepting committee invitations from a Democratic speaker, describing the situation as unprecedented.
McCarthy dismissed Kinzinger and congresswoman Liz Cheney, who previously accepted Pelosi's invitation to serve on the committee, as "Pelosi Republicans".
Updated
at 12.42pm EDT
11.58am EDT11:58
Joe Biden took a couple questions from reporters as his event celebrating the Americans with Disabilities Act was wrapping up.
Asked about whether he's confident the US can get more unvaccinated Americans vaccinated, Biden replied, "We have to."
Brian J. Karem
(@BrianKarem)
NOW @POTUS in response to my question about getting the unvaccinated vaccinated says "We Have to". Also said he remains optimistic he will get an infrastructure deal this week pic.twitter.com/1o3vHbbKrx
July 26, 2021
The president was also asked whether he is optimistic about the chances of a bipartisan infrastructure deal being reached this week.
"You know me, I'm always optimistic," Biden said.
The bipartisan group crafting the infrastructure bill is still working to reach a final agreement, and it's unclear whether negotiations will conclude this week.