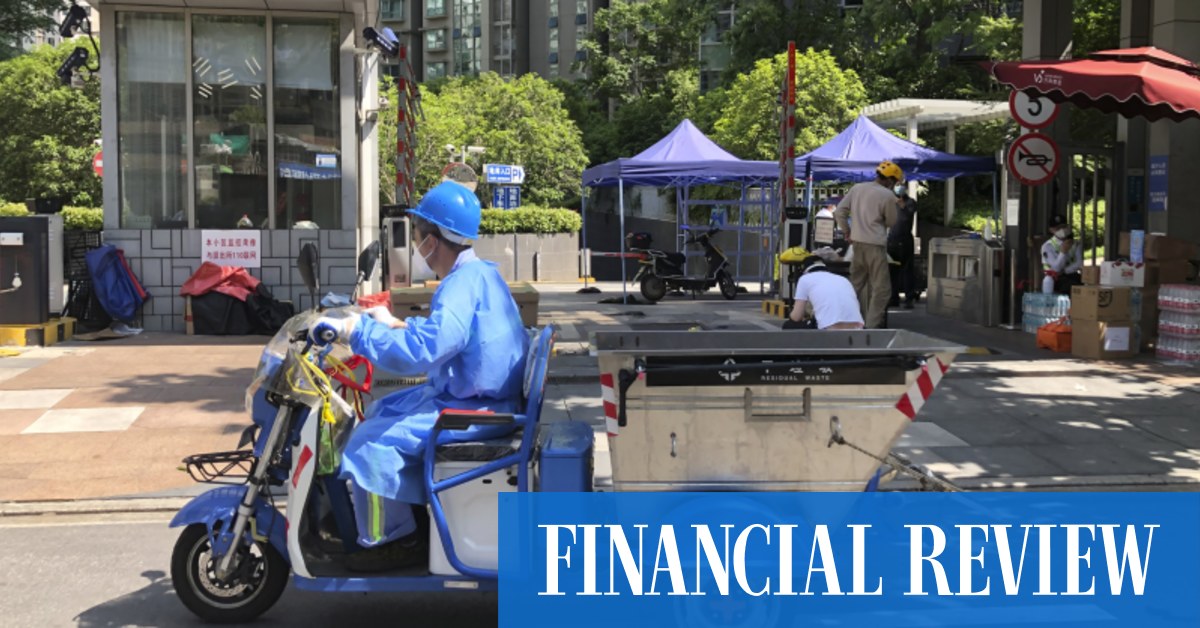 Germany's record surge in the producer price index in year-on-year terms was fuelled by a higher than expected 2.8 per cent increase in the month-on-month survey for April, which largely reflected energy prices. Excluding energy inputs such as natural gas, electricity and heating oil, the German PPI still advanced 16.3 per cent year-on-year.
Cartier and Net-A-Porter-parent Richemont fell 13 per cent in Switzerland to 91.76 francs ($134) after full-year profit missed forecasts and management adopted a cautious attitude about future Chinese demand. Its Russian business is suspended.
Slow road back
"Even when China comes out of isolation, the bounce back will not be as quick and as immediate as we have seen in Europe and the United States," chairman Johann Rupert said. One hundred out of Richemont's 250 stores are closed in China and the targeted lockdowns used to mitigate the spread of coronavirus have also shut distribution centres.
US real estate classifieds business Zillow fell 4.9 per cent to $US40.23 ($57), e-commerce platform Shopify dropped 7 per cent to $US363.85, fashion marketplace Farfetch tumbled 9.6 per cent to $US7.86 and Tesla was down 6.4 per cent to $US663.90.
After its profit downgrade on Thursday, discount retailer Ross Stores sunk 22.5 per cent to $US71.87 followed by Dollar General down 6.8 per cent to $US187.60. TJX also fell 5.8 per cent to $US57.87 and Dollar Tree was down 5.7 per cent to $US127.88 as the discount retail crisis intensified.
As evidence mounts that American shoppers are cutting back on discretionary spending and reducing their trolley sizes to cope with a 40-year high in US inflation, retailers are feeling the worst of it.
The dynamic prompted a rare intervention from St Louis Federal Reserve president James Bullard, who said retailers that failed to meet the needs of strapped customers would get "punched in the face".
He also told Fox Business on Friday that the US Federal Reserve's rate should reach 3.5 per cent by the end of the year, sufficient to choke inflation and return the central bank to easing mode in 2023 or 2024.
"The more we can front load and the more we can get inflation and inflation expectations under control the better off we will be," he said. "And in the out years, '23 and '24, we could be lowering the policy rate because we've got inflation under control."
Bear market territory
The S&P 500 was briefly in bear market territory at Friday's lows, but was able to shake off what would have been the first 20 per cent drop since March 2020. It was down 18.7 per cent from its record high at the closing bell. The Nasdaq is already battling a bear market, down 29.3 per cent from its peak.
The benefits of the federal budget's cut to fuel excise have been eroded with Australian petrol prices back to March levels, when they reached $2.12 a litre, according to AMP Capital. A jump in refining costs is behind the spike. The Morrison government's cost of living-focused budget included a 50 per cent cut to the 44.2¢ a litre fuel excise for six months. It expires in September.
"Governing in a world of higher inflation and interest rates will be the main challenge for the new government," AMP chief economist Shane Oliver said.
Brent crude futures rose half a per cent to $US112.55 a barrel for the July contract, while West Texas Intermediate added 0.4 per cent to $US110.28 a barrel.
Russia stopped providing gas to Finland, escalating Moscow's dispute with the West over converting energy payments to roubles. Gazprom halted gas exports to Finland, which refused Moscow's demands. Finland has joined Sweden in seeking NATO membership.