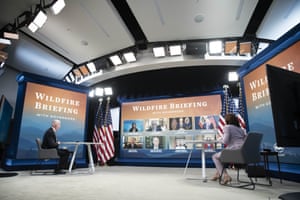 7.15pm EDT19:15
The US Department of Justice sued Texas Governor Greg Abbott today over his order to stop migrants from entering the state or being transported through it, unless by law enforcement officials.
According to the lawsuit, filed in federal court in El Paso, only the federal government has jurisdiction over immigration, Reuters reports.
From Reuters:
The order, which Abbott signed on Wednesday, permits only 'law enforcement officials' to provide ground transport for migrants detained for illegally crossing the southern border. It also gives the state's public safety department the authority to stop any vehicle suspected of carrying migrants and send it back to its point of origin.
The order would interfere with the U.S. government's ability to transport migrants between facilities, including unaccompanied children, according to the lawsuit. The government regularly employs contractors and other non-law enforcement personnel to transfer migrants.
The lawsuit came after US attorney general Merrick Garland called on Abbott to rescind the order a day after it was signed.
"The order violates federal law in numerous respects, and Texas cannot lawfully enforce the executive order against any federal official or private parties working with the United States," Garland reportedly wrote in a letter to Abbott.
Abbott who responded to the lawsuit by blaming the Biden administration for creating a "constitutional crisis" between his state and the federal government, argued that his order was needed to stop migrants from bringing in additional risks of Covid. There is no evidence to back up his claims and Texas, where cases have risen 200% in just the last two weeks, has a rate of only 44% vaccinated among residents.
Updated
at 7.45pm EDT
6.57pm EDT18:57
House adjourns without passing eviction moratorium
The House has adjourned for the August recess leaving the eviction moratorium – which would protect renters impacted by the Covid crisis – to expire.
After scrambling to get the votes Friday evening, Democratic lawmakers failed to get the extension through.
Roughly 11.4 million renters are currently behind on payments according to the Center on Budget and Policy Priorities.
On Thursday, the Biden administration pushed Congress to act, but left little time before the bill's 31 July expiration.
CBS Evening News
(@CBSEveningNews)
A federal moratorium on evictions is scheduled to expire tomorrow without congressional action tonight. @krisvancleave reports that an extension appears unlikely due to a lack of support on Capitol Hill. pic.twitter.com/YWeEjCIJjy
July 30, 2021
"This moratorium prevented hundreds of thousands of Americans from experiencing the heartbreak, homelessness, and health risks that too often emanate from evictions –particularly during a pandemic," said Jen Psaki said in a statement issued yesterday, adding that President Biden would have supported an extension from the CDC but "the supreme court has made clear that this option is no longer available".
As a congressional extension became more unlikely, Biden urged state and local governments to take up the cause, and disburse rental assistance funds. "State and local governments should also be aware that there is no legal barrier to moratorium at the state and local level," he said in a statement.
Updated
at 7.43pm EDT
6.27pm EDT18:27
Republicans in Georgia are attempting to take over election operations in a Democratic stronghold which could help the GOP shift the scales in the battleground state, CNN reports.
Georgia's Republican lawmakers passed a sweeping elections bill in March, complete with new voting restrictions, that enabled them to conduct a performance review of local election officials. After that concludes, the law allows the state election board to replace a local board in question and grant officials chosen by them the responsibility to run vote counting.
Republicans took the first step in requesting the performance review in Fulton county, a majority-Democrat area.
David Dreyer
(@ddreyer)
I've done 20 years of voter protection work, and I'm chair of the Fulton County Delegation in the GA House of Representatives.
Fulton County elections are constantly under attack by voices seeking to delegitimize elections and undermine our democracy. #S1TownHall https://t.co/p0WS5i9kiy
July 29, 2021
Earlier this week, after Republicans issued the first letter requesting the audit, Fulton county's chairman Robb Pitts told reporters that the move was "really a wake-up call".
"I can't let them get away with it in broad daylight," he said at the news conference.
Republican secretary of state Brad Raffensperger countered, writing in a tweet that the request was made in defense of voters.
"I have repeatedly called for the state election board to use its authority under SB202 to replace Fulton county's elections leadership," he said. "Fulton's voters deserve better than decades of poor management and long lines."
Updated
at 6.33pm EDT
6.10pm EDT18:10
Walmart – the largest retailer in the US – and Disney announced today that they will require employees to have Covid vaccinations, CNN reports.

Starting 4 October, all corporate Walmart employees will have to be vaxxed, according to a memo issued by the president and CEO Doug McMillon. An earlier memo issued today from the retailer also said all employees would be required to wear masks inside effective immediately.
Dan Diamond
(@ddiamond)
Rolling seven-day average of new U.S. covid cases, per The Post
Three weeks ago: 17,968
Two weeks ago: 30,515 
Last week: 48,041
Today: 74,746
July 30, 2021
From CNN:
While Walmart is not mandating that its store employees get vaccinated, it will soon implement a new process to verify their vaccine status, and is strongly encouraging workers to get vaccinated. As part of its push for vaccination, the company is offering employees the chance to get vaccinated while on the clock and up to three days paid leave for any reaction to the shot.
Additionally, Walmart is doubling its current vaccine incentive to $150. Originally, the company was offering employees $75 to get vaccinated. Current employees who get vaccinated and new employees who were vaccinated before they started at Walmart are all eligible to receive the bonus.
For Disney, the new rules require salaried and non-union hourly employees to have shots and has given on-site workers 60 days to comply.
Updated
at 6.13pm EDT
5.48pm EDT17:48
As the US faces another surge in Covid cases, nurses across the country are striking, protesting worsening work conditions and the lack of back-up that's added more stress and strain to an already difficult year.
Reporter Michael Sainato detailed the issues in his story published on the Guardian today.
"Most of us felt like we went from heroes to zeroes quickly," Dominique Muldoon, a nurse who has spent 20-years at Saint Vincent's hospital in Worcester, Massachusetts told Sainato.
"Nurses were going home at night in their cars crying," she added. "You'll end up staying late or working through your break trying to fit the workload all in, but ultimately become so frustrated, because eventually you keep trying to overcompensate and cannot keep up with it."
More from the story:
For over four months, more than 700 nurses at the Tenet Healthcare-owned Saint Vincent hospital have been on strike, the second longest nurses' strike in Massachusetts' history. The hospital has brought in replacement workers throughout the strike and have spent more than $30,000 a day on police coverage during the strike.
Muldoon, co-chair of the local bargaining unit, said understaffing worsened during the pandemic, with more staffing cuts and furloughs, while nurses worked through breaks and past scheduled shifts to try to keep up with the demand for patient care.
Read more here:
5.28pm EDT17:28
Gabrielle Canon here taking over from the west coast through the afternoon.
First up—
The US has issued new sanctions against Cuba's police force and two of its leaders after severe responses to protestors, Reuters reports, before Biden met with Cuban officials today.
The sanctions are in response to "actions to suppress peaceful, pro-democratic protests in Cuba that began on July 11" according to the US Treasury Department, after demonstrations erupted this month over the country's worsening economic crisis.
"We're gonna do everything we can to keep Cuba on the front burner, so we can keep the conversation on the rights of the Cuban people and their rights to manifest peacefully," a senior administration official told reporters.
The move follows sanctions imposed on Cuban officials earlier this month, according to Axios, which reported that the first round were Biden's "first significant policy response to the crackdown by authorities during unrest in Cuba over widespread food and medicine shortages".
"This is just the beginning," Biden said in a statement at the time, rebuking the "mass detentions and sham trials".
"The United States will continue to sanction individuals responsible for oppression of the Cuban people," he added.
Read more about what led to the unrest here:
5.00pm EDT17:00
Today so far
That's it from me today, My west coast colleague, Gabrielle Canon, will take over the blog for the next few hours.
Here's where the day stands so far:
The justice department ordered the IRS to release Donald Trump's tax returns to the House ways and means committee, which has sought the records in connection to a congressional investigation. The DoJ Office of Legal Counsel said the committee had "invoked sufficient reasons for requesting the former president's tax information".
The House oversight committee released notes showing Donald Trump pressured senior justice department officials to declare the election corrupt. According to notes taken by former deputy attorney general Richard Donoghue, Trump told officials in a December 27 call, "Just say that the election was corrupt + leave the rest to me" and congressional Republicans. Trump has produced no evidence of widespread fraud in the election, which Joe Biden fairly won.
The Centers for Disease Control and Prevention released data on breakthrough infections that led to the agency's new mask guidance for vaccinated Americans. The data showed that a Massachusetts outbreak caused by the Delta variant of coronavirus resulted in hundreds of infections, even though 74% of people affected were vaccinated. However, health experts emphasized that the data also shows vaccines prevent more than 90% of severe disease from coronavirus.
Congress is scrambling to pass an extension of the pandemic-related eviction moratorium, which is set to expire after tomorrow. House Democrats are working to approve a bill authorizing an extension, but the legislation does not currently seem to have enough support to pass. Millions of Americans are at risk of eviction if the moratorium expires.
The bipartisan infrastructure bill cleared a second procedural hurdle in the Senate, but the final text of the legislation has not yet been released. According to Bloomberg, a draft of the bill runs more than 2,500 pages long.
Gabrielle will have more coming up, so stay tuned.
4.41pm EDT16:41
House Democrats appear to be falling short in their efforts to extend the pandemic-related eviction moratorium, which is set to expire after tomorrow.
"We don't have the votes," a Democratic aide told the Hill.
However, House speaker Nancy Pelosi told reporters she is not yet pulling the bill that would authorize an extension, per ABC News. She declined to say whether she believes the bill has enough support to pass.
Once again, if Congress does not approve an extension, millions of Americans are at risk of being evicted.
Rachel Scott
(@rachelvscott)
Speaker Pelosi says she has not pulled the bill on eviction moratorium. She wouldn't answer questions about if she has enough support for it.
July 30, 2021
4.18pm EDT16:18
It looks like Barack Obama is gearing up to throw the (outdoor) bash of the summer.
The 44th president is reportedly pulling out all the stops when it comes to celebrating his 60th birthday on Wednesday. He will be inviting dozens of friends to his estate on Martha's Vineyard this weekend, Oprah Winfrey and George Clooney among them, according to the Hill.
Obama and family bought the house, which sits on nearly 30 acres, on the island off the Massachusetts coast in 2019 for $11.75m, according to the Vineyard Gazette.
3.57pm EDT15:57
Over on the other side of Capitol Hill, the Senate cleared another procedural hurdle on the bipartisan infrastructure bill.
In a bipartisan vote of 66-28, the Senate agreed to a motion to proceed to the legislative vehicle for the bill, which would provide $550bn in new federal funds for physical infrastructure projects.
Senate Press Gallery
(@SenatePress)
By a vote of 66-28, the #Senate agreed to the motion to proceed to H.R.3684, the legislative vehicle for the Infrastructure Investment & Jobs Act.
The Senate is now voting on cloture on Ur Mendoza Jaddou to be Director of US Citizenship and Immigration Services
July 30, 2021
However, senators have still not seen the final text of the bill, and the lead negotiators have said that drafts being circulated should not be considered the final version.
The debate over the specifics of the bill will likely spill over into next week, but ultimately the legislation's Senate passage seems likely, given the bipartisan support for it so far.
3.39pm EDT15:39
House Democrats expected to abandon efforts to extend eviction moratorium – report
House Democrats are reportedly expected to soon abandon their bill that would extend the pandemic-related eviction moratorium, which is set to expire after tomorrow.
According to Politico, House leadership will soon pull the bill, after spending the day trying to get enough votes to approve the extension.
Sarah Ferris
(@sarahnferris)
NEW: House Dems are likely to pull the eviction moratorium bill shortly, after more than a full day of whipping, per @heatherscope and me.
July 30, 2021
If House Democrats do give up on the effort, millions of Americans will be at risk of being evicted starting next week.
The White House deputy press secretary, Karine Jean-Pierre, said moments ago that the administration fully supported the House bill and would do everything possible to get it across the finish line.
Joe Biden has indicated he believes his administration cannot unilaterally extend the moratorium because the supreme court ruled last month that any extension beyond July 31 would require congressional authorization.
3.15pm EDT15:15
White House faces questions after CDC releases data on breakthrough infections
Karine Jean-Pierre has received many questions about the newly released data from the Centers for Disease Control and Prevention on breakthrough infections of the Delta variant of coronavirus.
The CDC's report showed that hundreds of people contracted coronavirus in Massachusetts earlier this month, even though 74% of people there were vaccinated.
Jean-Pierre emphasized that the vaccines remain incredibly effective at preventing severe illness and death from coronavirus, even with the more highly transmissible Delta variant. She described it as a national imperative to get more Americans vaccinated as quickly as possible.
ABC News
(@ABC)
"A national vaccine requirement is not under consideration at this time," White House principal deputy press secretary Karine Jean-Pierre says amid the rapid spread of the delta variant in the U.S. https://t.co/I6o5F5E3Xb pic.twitter.com/3Jd79eWZ7y
July 30, 2021
One reporter asked the deputy press secretary whether the White House is considering a national vaccine requirement, after Joe Biden indicated yesterday that he has asked justice department to determine whether such a mandate would be legal.
"A national vaccine requirement is not under consideration at this time," Jean-Pierre said.
Asked whether the White House anticipates that more lockdowns may be necessary if the Delta variant continues to spread, Jean-Pierre said no.
"The way we see this is that we have the tools in our toolbelt to fight this variant," Jean-Pierre said. "We are not going to head towards a lockdown."
3.04pm EDT15:04
In a new letter to House Democrats, speaker Nancy Pelosi said she was working to pass a bill that would extend the eviction moratorium until 18 October, when the federal public health emergency declaration expires.
"It is our hope that we could pass a bill extending the eviction moratorium to that date immediately," Pelosi said.
"As we do so, we urge states and localities to expeditiously distribute the money that Congress has allocated to renters in need. Of the $46.5 billion provided by Congress in the December Omnibus and the American Rescue Plan, only $3 billion has been distributed to renters by state and local governments. Families must not pay the price for that."
However, it remains unclear whether Pelosi has enough votes to pass the extension bill. And again, it seems unlikely that such a bill could make it through the evenly divided Senate.
The moratorium is currently set to expire tomorrow, and millions of Americans are at risk of being forced out of their homes if the policy is not extended.
Updated
at 3.14pm EDT
2.53pm EDT14:53
One reporter asked Karine Jean-Pierre about House speaker Nancy Pelosi's efforts to extend the pandemic-related eviction moratorium, which is set to expire tomorrow.
The deputy press secretary said the White House completely supports those efforts and will do everything possible to help advance a bill authorizing an extension.
"It has been a lifeline to so many Americans," Jean-Pierre said. "So we support the speaker's effort, and we will do everything we can to move this forward."
Reiterating a statement from press secretary Jen Psaki yesterday, Jean-Pierre said the president did not feel his administration could unilaterally extend the moratorium because the supreme court ruled last month that such an action would require congressional authorization.
2.43pm EDT14:43
The White House deputy press secretary, Karine Jean-Pierre, is now holding the daily briefing with reporters.
Jean-Pierre noted that Joe Biden and Kamala Harris held a virtual meeting with governors today to discuss wildfire prevention and response efforts.
At the meeting, the president "highlighted the heroism of our firefighters" as the country confronts a historic wildfire season, Jean-Pierre said.
The deputy press secretary noted that the 2021 wildfire season continues to outpace the 2020 season in terms of large fires to date, and FEMA has been distributing grants to help states pay for the cost of fighting fires.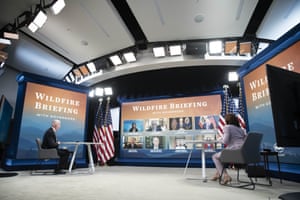 Joe Biden and Kamala Harris participate in a virtual meeting with governors to discuss wildfire prevention. Photograph: Sarah Silbiger/UPI/REX/Shutterstock
2.33pm EDT14:33
Based on evidence gathered on earlier strains of the virus, the CDC had said vaccinated individuals could completely abandon masks. The new guidance from the CDC recommends masks in schools and for individuals in public places with substantial and high transmission in their most recent guidance. But suggestions in the study from Massachusetts suggested going further.
"Findings from this investigation suggest that even jurisdictions without substantial or high Covid-19 transmission might consider expanding prevention strategies, including masking in indoor public settings regardless of vaccination status, given the potential risk of infection during attendance at large public gatherings that include travelers from many areas with differing levels of transmission".
Vaccines remain the most important thing individuals can do to protect themselves from severe illness and death from Covid-19, and they remain highly effective against the delta variant, in spite of rare cases of breakthrough infections. Although vaccinated individuals are not believed to be able to readily transmit the delta variant, the vast majority of spread in the US is thought to be among unvaccinated individuals.