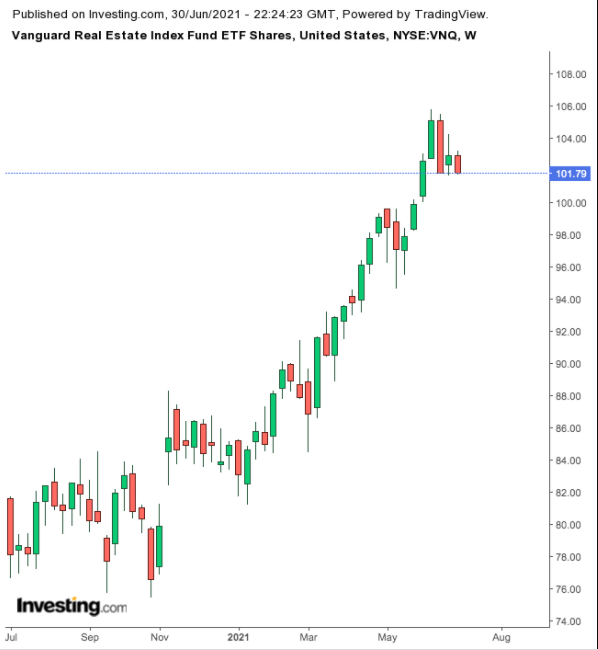 The U.S. housing market is on fire these days. Home prices jumped the most in more than 30 years in April, according to data released Tuesday. That came after a 13.2% increase in March. April was also the 11th straight month that price gains accelerated.
After these eye-popping increases, there are solid reasons to believe that the country's housing market will remain strong for many years to come. Low interest rates and the pandemic-driven shift to living in the suburbs are adding to the housing shortage, pushing prices higher.
"The forces that have propelled home price growth to new highs over the past year remain in place and are offering little evidence of abating," said Matthew Speakman, an economist at Zillow Group.
"The number of available homes for sale remains historically small, particularly given the elevated demand for housing."
To benefit from this robust activity in the real-estate market, investors are shifting their funds to companies best positioned to thrive in this environment. The index, for example, is up 22% this year, double the rise of the .
IYR Weekly Chart.
Real estate exchange-traded funds are also attracting investors' cash. The iShares U.S. Real Estate ETF (NYSE:) posted $1.3 billion of inflows in the first week of June.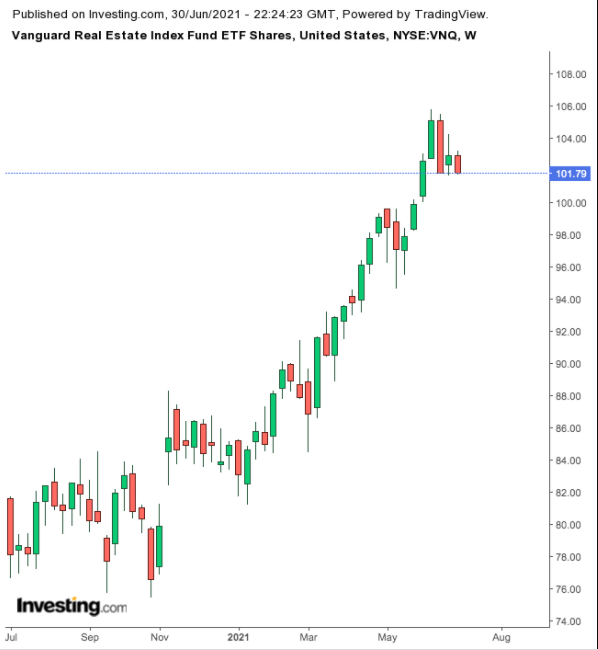 VNQ Weekly Chart.
The $75-billion Vanguard Real Estate Index Fund ETF Shares (NYSE:) posted $1.2 billion of inflows in May, according to Bloomberg data.
Inflationary Fears
Another reason making real-estate stocks a bet worth taking is the fear of inflation in the post-pandemic world. As the economy reopens and people resume their normal lives, there is a possibility that inflationary pressures will escalate.
If that happens, it could erode company profits and force the Federal Reserve to hike interest rates sooner than expected. In that environment, investors could get higher yields from real estate investment trusts (REITs), companies that manage large apartment buildings, commercial real estate or malls.
Consumer prices rose 5% in May from a year earlier, according to the U.S. Labor Department, the biggest surge in inflation in nearly 13 years. Federal Reserve officials signalled last month that they expect to raise interest rates by late 2023 as inflation picks up.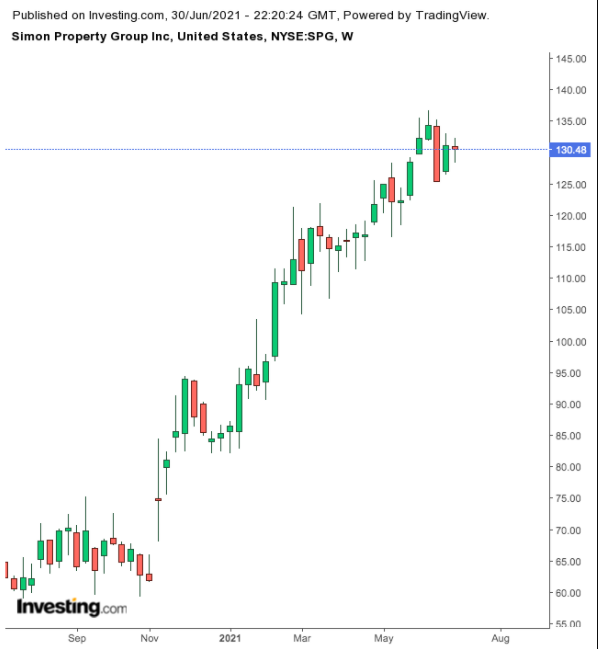 Simon Property Group Weekly Chart.
Shares of Simon Property Group (NYSE:), America's largest mall operator, which has seen its shares gain more than 50% this year, are yielding more than 4%.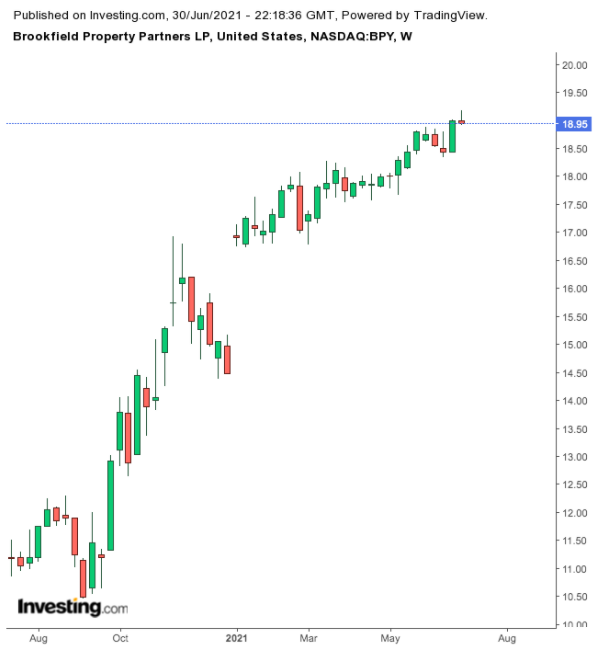 Brookfield Property Partners Weekly Chart.
Similarly, Brookfield Property Partners (NASDAQ:), which manages office, retail, multi-family housing and industrial assets globally, is offering an annual yield of about 7%. The yield on the benchmark U.S. Treasury note is just below 1.5% at time of writing.
Bottom Line
In a low-rate environment when housing demand remains strong, real estate stocks will continue to benefit. Investors could buy some of the top quality REITs that offer decent yields and a potential of capital gains to take advantage of this trend.