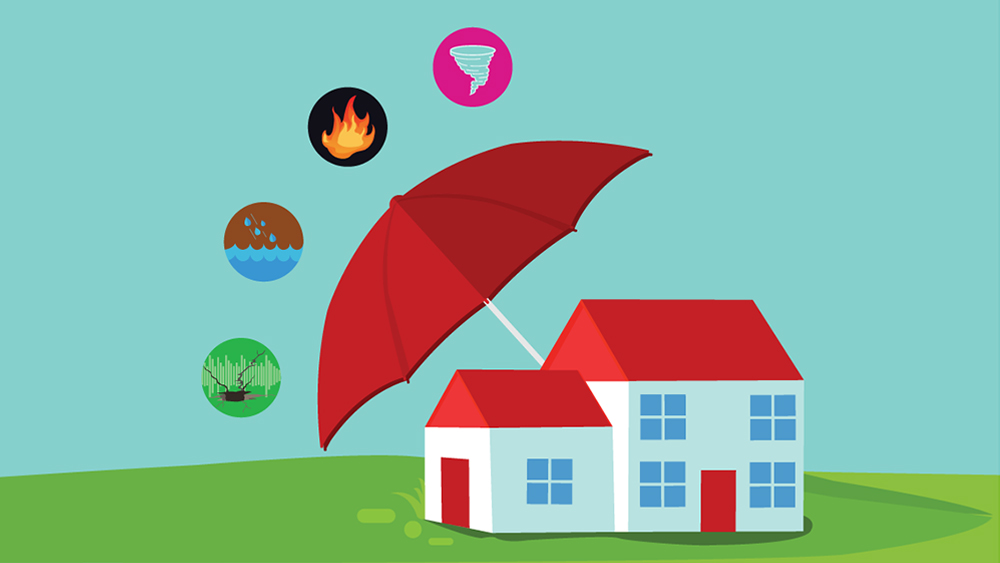 Homeowner Responsibility
Even when owners have insurance, they may not have enough to keep from digging into their wallets for more than their deductibles. "The only scenario where an insurer won't cover a homeowner or business for extreme weather damage is when they do not have sufficient insurance coverage," says ValuePenguin's Divya Sangameshwar. "It is the homeowners'/business owners' responsibility to know what their level of coverage is, the kinds of perils their existing policy covers, and purchase additional coverage to cover perils that aren't included in their basic policy."
Beyond owners and their insurers, though, others in the housing continuum also share some of the hazard, according to the MBA's report, "Who Owns Climate Risk in the U.S. Real Estate Market." And according to the 21-page paper, "the ways in which responsibility … is distributed among the various market players is heavily dependent on whether the property owners do or do not have a mortgage and whether that mortgage is held in a lender's portfolio or is sold into the secondary market."
Before going further, I know there are some who don't believe in climate change. But let's assume for the purposes of this treatise that it is real. And if that's the case, the MBA points out, the mortgage market "serves as a de facto insurance coverage."
While owners take on all the physical risk, mortgagors take on some of the transition risk of moving to a lower-carbon economy as well as counterparty and operational risk, according to authors Jamie Woodwell, Mike Fratantoni and Edward Seiler, all of whom are MBA staffers. And if the loan is sold to the government sponsored enterprises, insured by the Federal Housing Administration, securitized by the Government National Mortgage Association or finds its way into a private-label security, transition and counterparty risk transfers to those entities. Operational risk, on the other hand, generally remains with the servicer. (Woodwell is the MBA's vice president of research; Fratatnoni, its chief economist, and Seiler, executive director of its Research Institute for Housing America.)
Going Commando?
Owners of the 30 million or so owner-occupied properties without a mortgage make their own insurance decisions. But when they go commando, Uncle Sam often comes to their rescue, in some way or fashion, to ease the burden of climate-related disasters with grants, loans and other form of support. Even when they have insurance, though, owners could be left high and dry if their insurer pulls out of the market, as some have done recently in Florida, or goes under, as a few have in Florida as well. And then there's increased risk of higher taxes and changes in housing values, all of which also is assumed by the owner.
At the same time, some 48 million owners have some form of mortgage which requires them to maintain insurance. If they don't, lenders have the authority to "force-place" coverage. When a property is held in the lender's portfolio, the report outlines, owners still retain a portion of the physical risk. But some of the transitional risk equal to the loan amount shifts to the lender in a second position behind the borrower. Moreover, the servicer "must establish policies and procedures to monitor and act" on insurance issues should they arise. Consequently, servicers assume some operational risk.
When the loan moves into the secondary market — some 36 million are sold or securitized — the physical risks don't change, nor do the transition risk. But the lender sheds its share of the risk it would have otherwise assumed had it held on to the mortgage, and the servicer continues to own some operational risk associated with monitoring and managing the risk taken on by others.