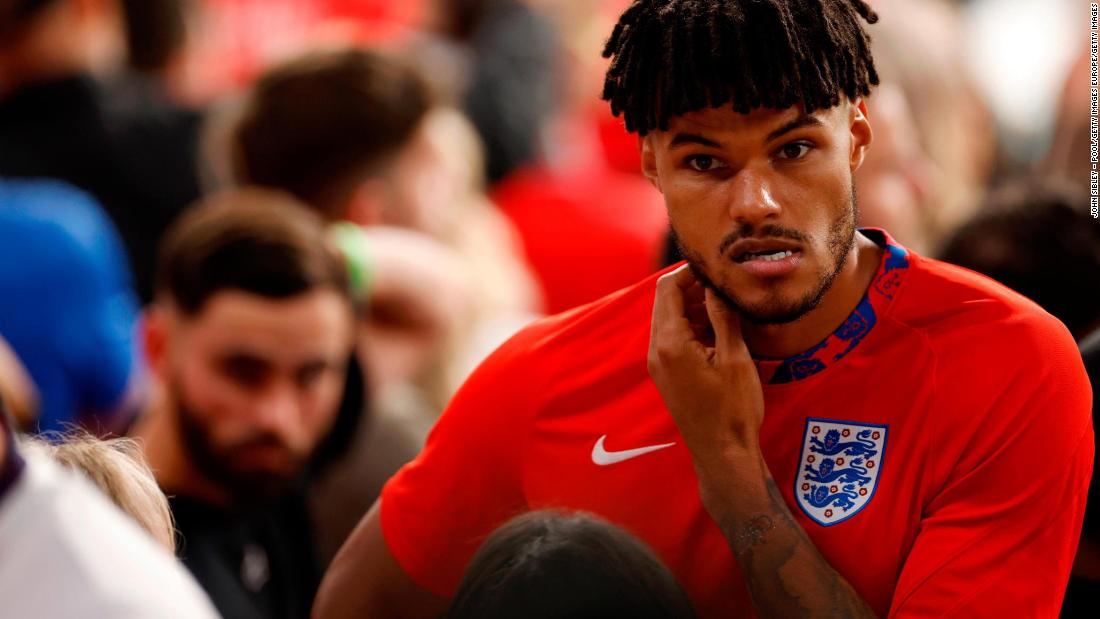 Patel took to Twitter to say that she was "disgusted" by the abuse directed at the trio.
Previously she accused the England team of participating in "gesture politics" by taking the knee — an act the players did before each of their Euro 2020 games — and said fans had a right to boo them, telling GB News in June: "That's a choice for them, quite frankly."
In recent weeks, UK Prime Minister Boris Johnson — along with other lawmakers in his government including Patel — have been specifically asked to condemn the England fans who booed players taking the knee before kick-off but failed to do so.
By not condemning fans for booing the players taking the knee — an act which players have consistently reiterated is a display of unity in the fight against racism and inequality — Mings believes Patel can't have it both ways.
"You don't get to stoke the fire at the beginning of the tournament by labelling our anti-racism message as 'Gesture Politics' & then pretend to be disgusted when the very thing we're campaigning against, happens," the 28-year-old wrote on Twitter.
Patel and the Home Office declined to comment on Mings' post when CNN reached out, instead pointing to her tweet and her comments in the House of Commons on Monday condemning the racist abuse directed at the England players.
Mings' comments come after Labour leader Sir Keir Starmer said Johnson "failed the test of leadership" by not condemning fans who booed England players taking the knee.
"This is about leadership and I'm afraid the Prime Minister has failed the test of leadership because whatever he says today about racism, he had a simple choice at the beginning of this tournament in relation to the booing of those that were taking the knee," he told reporters.
"The Prime Minister failed to call that out and the actions and inactions of leaders have consequences so I'm afraid the Prime Minister's words today ring hollow."
One political analyst said the UK government could suffer political fallout over its comments on the England team over the last few weeks.
"I think both Johnson and … Priti Patel and some other government MPs did misjudge the situation right from the start," Tim Bale, Professor of Politics at Queen Mary University in London, told CNN Sport.
"But certainly, in as much as it's woken a few people up who perhaps didn't realize that Priti Patel has said this, that does make things a little bit more awkward for the government than perhaps they were before," added Bale.
READ: Racist abuse directed at England players after Euro 2020
'I will never apologize for who I am'
Rashford has consistently highlighted the abuse he's been the target of over the last few years, including in May when the 23-year-old said he'd received "at least 70 racial slurs" on social media following Manchester United's Europa League final defeat to Villarreal.In a statement posted on his social media accounts, Rashford apologized for his penalty shootout miss in the Euro 2020 final.
"I felt as though I had let my teammates down. I felt as if I'd let everyone down. A penalty was all I'd been asked to contribute for the team. I can score penalties in my sleep so why not that one? It's been playing in my head over and over since I struck the ball and there's probably not a word to quite describe how it feels. Final. 55 years. 1 penalty. History. All I can say is sorry. I wish it had of gone differently."
He went on to say that he "will never apologize for who I am."
"I've grown into a sport where I expect to read things written about myself. Whether it be the color of my skin, where I grew up, or, most recently, how I decide to spend my time off the pitch.
"I can take critique of my performance all day long, my penalty was not good enough, it should have gone in but I will never apologize for who I am and where I came from.
READ: Football's coming home, but taking a knee divides England
A show of unity
In the hours after England's defeat by Italy, a mural honoring Rashford was vandalized with graffiti in the north-west city of Manchester.
The artwork commemorated the Manchester United player's work to tackle child food poverty. It features the quote: "Take pride in knowing that your struggle will play the biggest role in your purpose."
After the mural was defaced in the early hours of Monday, part of it has been temporarily covered with bin bags. The Coffee House Cafe, where the mural is painted, shared images on Facebook of locals coming out to support Rashford.
As the day went on, supports traveled to the mural to post their own personal messages of appreciation on it, sharing messages such as "hero."
Stuart Brennan, chief Manchester City writer at the Manchester Evening News, posted his message of support on Twitter.
"This is my Manchester. Hatred swamped by love and solidarity. And don't dare make this a Red vs Blue thing — this is far too important for such triviality."
Rashford himself said the response to the graffiti had him "on the verge of tears."
"The messages I've received today have been positively overwhelming and seeing the response in Withington had me on the verge of tears," he said.
"The communities that always wrapped their arms around me continue to hold me up. I'm Marcus Rashford, 23-year-old, black man from Withington and Wythenshawe, South Manchester. If I have nothing else I have that."
READ: How England manager has shown the true value of leadership
Petition
The continuing racist abuse of football players and other athletes has led to growing calls for social media companies to make changes to the way they police their platforms.
On Monday, the Mayor of London, Sadiq Khan called on social media companies to take immediate action to "prevent this hate" while the chair for the Digital, Culture, Media and Sport Committee, Julian Knight, echoed his sentiment.
"Social media companies once alerted to this abuse have an acute responsibility to immediately take it down," Knight said.
"The Government needs to get on with legislating the tech giants. Enough of the foot dragging, all those who suffer at the hand of racists, not just England players, deserve better protections now."
Stephen Barclay (Chief secretary to the UK Treasury) told Sky News on Tuesday: "We're taking action to tackle this through the Online Harms Bill, and that is what needs to happen. We need to ensure that those platforms. Take action and if they don't, the government will take action against them."
Visit CNN.com/sport for more news, features, and videos
A petition which is calling for bans for those who have "carried out racist abuse, online or offline, from all football matches in England" has received almost one million signatures.
The campaign, launched by a group of women who call themselves 'The Three Hijabis,' urged the Football Association, clubs and the government to work together to ban those who have been found to have carried out racist abuse at games or online from all football matches in England for life.
"Our England team stood up for all of us — now we must stand up for them," the petition said on the Change.org website.