3.16pm EDT15:16
The US Dow Jones Industrial Average continues to have a terrible afternoon and stock markets have fallen across the world.
The prospect of slowing global growth resulted in most stock markets across Europe experiencing significant falls, after a slide in Asia overnight that came when Indonesia reported an increase in cases and some athletes tested positive at Tokyo's Olympic village, with the Games due to open on Friday.
Wall Street investors joined the stock market sell-off, with the Dow down more than 2% by lunchtime in New York.
My colleague Phillip Inman writes that in the UK the FTSE 100 closed earlier down 2.4% at 6,844 points, its biggest one-day fall since 11 May and its lowest close since early April.
Fears that a relaxation of lockdown rules by Boris Johnson's government would aid the spread of new variants in the UK also weighed heavily on the value of the pound, which lost ground against the euro and the dollar. Sterling dropped to $1.37, its lowest since April, and was down about 0.6% against the euro to €1.16.
Analysts said few markets were immune to the sense of trepidation that accompanied warnings from health professionals that the virus could still cause a surge in hospitalisations and harm to younger people despite higher vaccination rates.
We'll have a US report when the markets close, meanwhile, this from London:
And you can follow the dedicated business live blog out of London for a bit longer, until Wall Street calls it a day.
Updated
at 3.17pm EDT
2.46pm EDT14:46
US stocks plunge amid Covid variant fears
Stocks plunged in the US on Monday morning, as all three major US stock indexes followed their European counterparts with broad sell-offs fuelled by fears of surging cases of the Delta variant of the Covid virus and renewed lockdowns and economic pressures.
The S&P 500 and the Dow Jones Industrial Average were both down more than 2% by midday, the Dow on track for its worst day in nearly nine months. US 10-year Treasury yields fell to a five-month low.
"Despite the Covid or Delta variant fears," Oliver Pursche, senior vice-president at Wealthspire Advisors in New York, told Reuters. "Sell-offs can happen at any time and people like to slap a reason on it. We think the US economic recovery is on track and will continue.
"Hopefully, [the infection surge] gives people a wake-up call, maybe they should get vaccinated. It's clear that the vaccine works, it's overwhelmingly safe and people should get vaccinated."
Concurrently, the US Business Cycle Dating Committee said the recession touched off by the coronavirus lasted only two months, ending in April 2020 after a sharp drop in economic activity caused by the first stages of the pandemic. The group of macroeconomists who assign the start and end dates of US business cycles said indicators of both jobs and production "point clearly" to a rebound beginning in May.
Around 22m jobs disappeared from company payrolls in March and April 2020, sparking concern about a new Depression and leading Congress and the White House to approve several massive relief packages to keep firms and households afloat.
But during May 2020 2.8m people were brought back to work, and over the next year about 15m jobs were recovered. That said, the hole in the US job market remains substantial, and filling it a focus of the Biden administration and the Federal Reserve.
This year may still see the fastest expansion of economic activity in 40 years, but rekindled fears about the pandemic on Monday hit markets hard.
2.30pm EDT14:30
Capitol attack: Trump supporter gets eight-month sentence

A Florida man was sentenced earlier today to eight months in prison for his role in the 6 January insurrection in Washington, a punishment likely to set a benchmark for later cases.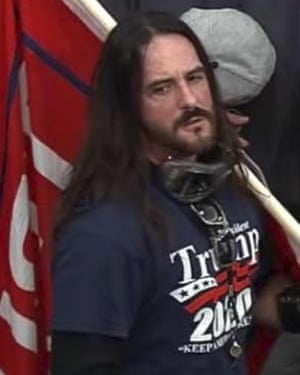 Paul Hodgkins. Photograph: AP
Paul Hodgkins, from Tampa, pleaded guilty to obstructing an official proceeding after he breached the US Senate chamber during the attack on the US Capitol.
Hodgkins was filmed wearing a Trump 2020 T-shirt, with a flag over his shoulder and eye goggles around his neck, and seen taking a selfie with a self-described "shaman" in a horned helmet and other rioters on the dais behind him.
He is the first rioter to be sentenced for a felony crime in connection with the attack, which saw hundreds storm the Capitol after they were fed lies about election fraud. More than 570 people have been charged regarding the riot, during and after which five people died.
Prosecutors had asked for Hodgkins to serve 18 months, saying in a court filing he "like each rioter contributed to the collective threat to democracy" by forcing lawmakers to temporarily abandon their certification of Joe Biden's victory and to scramble for shelter.
Speaking in court in Washington on Monday, Hodgkins apologised and said he was ashamed. Reading from a prepared text, he described being caught up in euphoria as he walked through Washington, then followed a crowd of hundreds up Capitol Hill and into the Capitol building itself.
"If I had any idea that the protest … would escalate [the way] it did … I would never have ventured farther than the sidewalk of Pennsylvania Avenue," Hodgkins told the US district judge, Randolph Moss.
He added: "This was a foolish decision on my part."
Updated
at 2.30pm EDT
1.50pm EDT13:50
Earlier today, Joe Biden made some comments on Facebook and the spread of misinformation when it came to vaccinations. He had to clarify, saying that the company "isn't killing people", but misinformation and the spread of misinformation is.
CSPAN
(@cspan)
President Biden clarifies his statement about Facebook: "My hope is, that Facebook instead of taking it personally, that somehow I'm saying 'Facebook is killing people', that they would do something about the misinformation." pic.twitter.com/GXfZOHxWKl
July 19, 2021
At today's briefing, White House press secretary Jen Psaki clarified a bit further, not quite letting Facebook off the hook but not making any blatant accusations.
"Our fight is not with one social media platform. It is with the virus," Psaki said. "We have a role, everybody has a role, in combating misinformation. In terms of monitoring whether there have been steps that have been taken (to combat misinformation), there are all things you all can assess. There is no secret monitoring…do you have access from these companies on who is receiving misinformation? I don't think that information has been released."
1.40pm EDT13:40
White House press secretary Jen Psaki reiterated at today's press briefing the Biden administration's commitment to closing down Guantanamo Bay.
"Our goal is to close Guantanamo Bay," Psaki said.
This comes as the administration transferred a detainee out of the controversial detention facility for the first time. Psaki noted that 39 individuals remain at Guantanamo: 10 eligible for transfer, 17 eligible for periodic review board, 10 involved in the military commissions process and two who have been convicted.
Updated
at 1.41pm EDT
1.25pm EDT13:25
At today's press briefing, White House press secretary Jen Psaki went a little more in depth on any differences between Russia and China when it comes to cyberattacks and economic sanctions imposed by the US because of cyberattacks. "We are not differentiating," she said.
The elephant in the room though is that the US is much more economically dependant upon China than on Russia. The US received $163bn in exports in 2019 from China, as compared to the $10.9bn in exports from Russia. Imposing sanctions on China that are similar to the sanctions imposed on Russia could actually turn around and harm the US in the long run.
Psaki denied that this played a factor in the country's response, pointing out that the US joins with an "unprecedented" group of allies in "exposing and criticizing" China, in addition to filing charges against four of the accused hackers.
"We take cyber actions against our country and against private sector entities quite seriously," she said. "We are not holding back. We are not allowing any economic circumstance or consideration to prevent us from taking actions where warranted. We reserve the option to take additional actions where warranted as well. This is not the conclusion of our efforts as it relates to cyber activities with China or Russia.
12.47pm EDT12:47
DoJ won't prosecute Ross for misleading Congress on Census

A government investigation has found that Wilbur Ross, Donald Trump's commerce secretary, misled Congress about why he wanted to add a question about citizenship to the 2020 Cencus.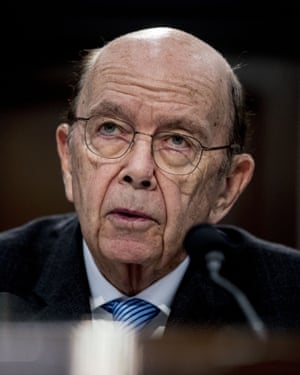 Wilbur Ross. Photograph: Andrew Harnik/AP
It is a federal crime to make false statements before Congress, but Joe Biden's Department of Justice will not prosecute Ross.
Critics said the Trump administration was trying to influence districting for elections by adding a question about citizenship to the Census, as undocumented people would therefore avoid the survey and cities with high populations of such people, which tend to vote Democratic, might consequently lose seats.
The AP explains:
According to critics, the citizenship question was inspired by Republican redistricting expert Tom Hofeller, who had previously written that using citizen voting-age population instead of the total population for the purpose of redrawing of congressional and legislative districts could be advantageous to Republicans and non-Hispanic whites.
In congressional testimony, Ross said the Department of Justice requested adding the citizenship question to the census form in late 2017 for the purpose of enforcing federal voting rights law. The inspector general said that "misrepresented the full rationale".
The supreme court blocked adding the question ahead of the 2020 Census.
Ross, now 83, is a longtime Trump associate who features in many of the rash of recent books about the Trump administration – often for falling asleep during meetings and speeches.
Here's Sam Levine on what ultimately happened regarding districting after the Cencus was done:
Updated
at 12.48pm EDT
12.26pm EDT12:26
When asked about the Microsoft hack, Joe Biden said one reason the US has not imposed sanctions against China over the cyberattacks – but did so against Russia in connection to the SolarWinds hack – was that the investigation is still ongoing.
When asked on the difference between the two governments' involvement, Biden responded: "My understanding is that the Chinese government, not unlike the Russian government, is not doing this themselves, but are protecting those who are doing it and maybe even accommodating them being able to do it," he said. "That may be the difference."
12.14pm EDT12:14
Joe Biden touted his administration's efforts to get Americans vaccinated and pass a rescue plan. He talked up the child tax credit under the American Rescue Plan: for the first time this month, working families with children under the age of 6 will receive $300 for each child and working families with children between the ages of 6 and 17 will receive $250 for each child.
"That money is a game changer. For some it's a life changer," Biden said. "That's just one example of how we're building an economy: from the bottom up and the middle out."
He addressed issues with price increases, and concerns that the the recent increases may be a sign of persistent inflation.
"Our experts believe and the data shows that most of the price increases we've seen were expected and are expected to be temporary," he said. "The reality is you can't flip the global economic light back on and not expect this to happen. As demand returns, there are going too be global supply chain challenges."
12.07pm EDT12:07
Joe Biden used this moment to ask Americans to not get complacent with the pandemic. "Our economic recovery hinges on getting the pandemic under control," he said. "We can't let up, especially with the Delta variant."
"The data couldn't be clearer: If you're unvaccinated, you are not protected," Biden said. "Please, please get vaccinated. Get vaccinated now. It's safe. It's free. It's convenient. This virus doesn't have to hold you back any longer. It doesn't have to hold our economy back any longer. The only way we put it behind us is if more Americans get vaccinated."
11.55am EDT11:55
Biden: Capitalism is alive and 'very well'
Joe Biden has taken the podium to laugh off all the predictions of "doom and gloom" that electing him to office would bring about depression and the death to capitalism.
The US went from a low of creating 60,000 jobs per per month to 60,000 jobs every three days – in total, more than 600,000 jobs per month, or "more than 3 million jobs all told."
"That is the fastest growth, I'm told, in any administration's history," Biden said.
"Six months into my administration, the US economy has experienced the highest economic growth rate in almost 40 years," Biden said. "And now the forecasters have doubled their projections for growth in the economy to 7% or higher. In fact, the US is the only developed country in the world where growth projections today are stronger than they were before the pandemic hit."
Updated
at 1.30pm EDT
11.22am EDT11:22
The Senate rules committee is holding its first field hearing in two decades today, discussing voting rights in Atlanta after Senate Republicans blocked the sweeping For the People Act last month.
Amy Klobuchar
(@amyklobuchar)
For the first time in two decades, the Senate Rules Committee is on the road to shine a light on what is actually happening in Georgia.
Georgians, like every American, deserve the right to vote. pic.twitter.com/6PfZX9f2uy
July 19, 2021
Senate minority leader Mitch McConnell categorized the hearing as the Democrats "bringing their own partisan circus to town".
Craig Caplan
(@CraigCaplan)
McConnell on Senate Rules Cmte field hearing today in Georgia on voting rights: "Democrats' fake outrage may have driven jobs & opportunities out of the state of Georgia,but I'm sure Georgians will appreciate that Democrats are bringing their own partisan circus to town instead."
July 19, 2021
11.00am EDT11:00
Joe Biden is set to speak on the economy and the bipartisan infrastructure plan at 11.30 local time. CNN is reporting that the president will use this speech to counter concerns that his economic plan will accelerate inflation.
The speech comes with the bipartisan group working on the bipartisan infrastructure plan at odds over spending, and as Democrats hope to pass a $3.5tn human infrastructure bill alongside it – a bill Republicans are already balking at because of its size.
Biden will likely spend time during his remarks touting the more than 3 million new jobs created since he took office and unprecedented projected growth. But the speech comes
10.46am EDT10:46
5 Texas Dems in Washington test positive for Covid
Texas Democrats made headlines when they fled the state for Washington to prevent quorum on a restrictive voting bill dubbed "Jim Crow 2.0" by the left.
Now, however, five of them have since tested positive for Covid-19. All the lawmakers have been vaccinated. "When my Texas House Democratic colleagues and I broke quorum to stop anti-voter legislation, we knew that tactic would come with real personal sacrifice," said Texas state representative Trey Martinez Fischer in a statement.
However, he noted that he is experiencing "extremely mild symptoms" and is quarantining until he tests negative.
"Just as these new variants sweeping the country are more aggressive than ever, the wave of anti-voter legislation in this country is worse than we've seen in generations," the lawmaker said. "That's why, I will continue the fight for voting rights with every single fiber of my being."
"That is the beauty of being vaccinated," said Democratic Texas state representative Gene Wu. "Every single person who has tested positive so far have little to no symptoms, which is the point of the vaccine. If nothing else, we want this to be a reminder to all Americans: get your stupid shot now."
Gene Wu
(@GeneforTexas)
"All of our #txlege colleagues who tested positive are having little to no symptoms. Which is the point, get your vaccines!"
Thanks @MSNBC for having me on to talk about #VotingRightsAct & #covid19. pic.twitter.com/k9pF0rfIH3
July 18, 2021
10.30am EDT10:30
Biden and Democrats push for infrastructure
This week marks six months that Democrats have held the majority in the Senate, and it kicks off with a lot of legislating on the joint pieces of infrastructure legislation that Joe Biden hopes to pass.
To recap: We have the $1.2tn bipartisan infrastructure deal focused on improving roads, bridges and public transit that Democrats worked out with Republicans. Then we have the $3.5tn human infrastructure bill focused on improving social services and environmental measures.
Republicans were upset over the bundling of the two bills after the lengthy negotiating over the bipartisan deal. In particular, they balked at the size of the human infrastructure bill. In an interview on Fox News's Sunday Morning Futures, Republican senator Lindsey Graham said he would advise his fellow Republicans to "learn something from our Democratic friends in Texas when it comes to avoiding a $3.5tn tax and spend package: Leave town." Graham, of course, is referencing how Texas Democrats thwarted a restricting voting bill by fleeing the state and preventing quorum.
But first: the bipartisan deal. The Senate majority leader, Chuck Schumer, is expected to file cloture today on the bipartisan infrastructure bill, in an attempt to speed things up so that Democrats can then turn their focus on passing the human infrastructure bill.
Cloture is basically the procedure for ending debate and taking a vote. Yet senators in the bipartisan group that came up with the plan spent the weekend trying to solve a $100bn hole that arose after Republicans took issue with plans to beef up IRS enforcement, Politico is reporting.
"How can I vote for cloture when the bill isn't written?" the Republican senator Bill Cassidy said on Fox News Sunday.
10.13am EDT10:13
Secretary of state Antony Blinken has issued a statement on the People's Republic of China and its "destabilizing and irresponsible behavior in cyberspace."
This is in regards to the Microsoft hack that resulted in the Department of Justice filing charges against the four Chinese nationals working for the Ministry of State Security.
"Responsible states do not indiscriminately compromise global network security nor knowingly harbor cyber criminals – let alone sponsor or collaborate with them," Blinken said. "These contract hackers cost governments and businesses billions of dollars in stolen intellectual property, ransom payments, and cybersecurity mitigation efforts, all while the (Ministry of State Security) had them on its payroll."
Stephanie Myers
(@_StephanieMyers)
NEW:
Secretary of State Antony Blinken releases statement regarding China's destabilizing and irresponsible behavior in cyberspace pic.twitter.com/Q7tJnApROj
July 19, 2021
10.13am EDT10:13
DoJ charges four Chinese nationals in Microsoft hack
Howdy, liveblog readers. Happy Monday.
The Biden administration has joined with allies – including the EU, the UK and Nato – in accusing Chinese state-based hacking groups of being behind the exploitation of an estimated 250,000 Microsoft Exchange servers worldwide earlier this year.
The US Department of Justice charged four Chinese nationals working with the ministry of state security of the People's Republic of China with global computer intrusion campaign targeting intellectual property and confidential business information.
Raphael Satter
(@razhael)
There are several ways to read this, but one is pretty chilling.
DOJ says Chinese hackers were targeting research on highly infectious diseases including Ebola, MERS, and HIV.https://t.co/IERd6doOBf pic.twitter.com/PTGX8KDCdi
July 19, 2021
The White House said China's "pattern of irresponsible behavior in cyberspace" was "inconsistent with its stated objective of being seen as a responsible leader in the world".
More to come on this and more from Washington today.
In the meantime, you can read more here: